GEORGE WASHINGTON HIGH SCHOOL
At a Glance
Mission & Approach to Learning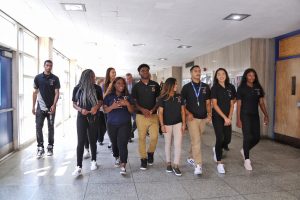 The mission of the George Washington High School is to provide all students with learning opportunities that match their abilities and desired outcomes through the International Baccalaureate Program, AP coursework, Dual-Enrollment, internships, apprenticeship programs, hands-on learning activities and industry recognized certifications with 21st century skills. The George Washington staff is committed to preparing, ensuring, and empowering all students of diverse backgrounds to achieve their full intellectual and social potential in order to become lifelong learners and productive members of society.
Points of Pride
Students come from 70 countries
40 languages spoken
Championship sports teams
International Baccalaureate Program
Certification Programme of International Baccalaureate
Extensive elective choices and levels
Aspen Challenge Winners 2017
Dual Enrollment Program
Award Winning DECA program
Designated Mayor's Office Community School
12 AP courses offered (24% of students participate)
Partnership with Heights Philadelphia
Piloting new 4-year Computer Science Program in the 22-23 School Year
Computer Science CTE program beginning 24-25 School Year
Courses & Program Highlights
Advanced Placement Program: Advanced Placement (AP) is the curriculum administered under the auspices of the College Board. These courses prepare a student to take the Advanced Placement Examination in a particular subject area in May. Success in this examination process may generate college course credit. GWHS offers the following AP courses:
AP Biology
AP Calculus AB
AP Chemistry
AP Computer Science Principles
AP English Language and Composition
AP English Literature and Composition
AP Physics
AP Psychology
AP Studio Art Drawing
AP U.S. Government and Politics
AP U.S. History
AP World History
Dual-Enrollment Program: Dual enrollment with Community College of Philadelphia (Center City and Northeast Campus) offers juniors and seniors the opportunity to experience the rigors of college courses while still in high school. The school may cover up to two (2) courses per semester, tuition-free. Also, students have the flexibility of choosing the courses based on their interest.
Career & Technical Education Program: Career and Technical Education (CTE) pathways at GWHS are designed to prepare students for careers of the future. Our CTE pathways provide hands-on, relevant training and highly-employable skills, specifically for STEAM careers.
Accounting & Financial Services – an instructional program that introduces students to the accounting principles for various business owners. From journals, ledgers, worksheets and financial statements, to taxes and banking, the program covers both the knowledge and hands-on skills of accounting basics. Instruction in QuickBooks is one of the valuable skills students can take into the workforce, as well as the ability to track financial details from journal entry to closing a fiscal year.
Culinary Arts – a program that focuses on the study of cooking and related culinary arts that may prepare students for a variety of jobs within the food service industry. The coursework is designed to prepare students for jobs in institutional, commercial or self-owned food establishments, or other food industry occupations. Instruction and specialized learning experiences include theory, laboratory and work experience related to planning, selecting, preparing and serving quality food, nutritive values, use and care of commercial equipment, safety and sanitation precautions.
Sales, Marketing & Entrepreneurship – a program that prepares high school students for a coveted career in the sports industry, with many options for professional development. Students receive in-depth instruction in entrepreneurship, management concepts, business economics, business law, marketing concepts, finance, business ethics and communication. Internships are a vital and exciting hands-on feature of
The International Baccalaureate (IB)
The International Baccalaureate (IB) is a comprehensive two-year curriculum which promotes student autonomy, independent research, and a rich, post-modern educational environment. In the ninth and tenth-grade students will have a full roster of advanced and honors classes so that they will be adequately prepared for the expectations of the Diploma Program years.
To earn an IB diploma, students must take a challenging liberal arts course of studies and pass examinations in six academic subjects
IB Language A: Literature – HL1 and HL2
IB Mathematics – SL and SL2
IB Chemistry – SL
IB Physics – SL and SL2
IB History – HL1 and HL2
IB Psychology – HL1 and HL2
IB Language B: Spanish – SL and SL2
IB Language B: Russian – SL and SL2
In addition, students are required to take the Theory of Knowledge (TOK) course that investigates the nature of knowledge in various disciplines; participate in Creativity, Action, Service (CAS) to achieve eight learning outcomes, undertake original research, and write an Extended Essay of 4,000 words. Students successfully completing the program earn a George Washington High School diploma in addition to the internationally recognized IB diploma. Students who complete this program are more likely to move on to prestigious universities and colleges.
Extracurricular Activities
Bible Club
Black Student Union
Change the Culture (CTC)
Chess
Choir
Culinary Arts
Dance
DECA
Fashion Show
Film Club
GSA
Literary Magazine (The Lantern)
Math Club
MSA
Multicultural Show
Musicals/Drama
Muslim Student Association
National Honor Society
Peer Group Connection
Photography Club
Robotics
Silkscreening Club
SOCA
Student Government
Students Run Philly Style
Web Design
WHYY Media Club
Yearbook
YMCA After School Club
Youth Court
Sports Teams
Badminton—Boys & Girls
Baseball—Boys Varsity
Basketball—Boys & Girls Varsity
Bowling—Boys & Girls
Cheerleading—Boys & Girls
Cross Country—Boys & Girls
Field Hockey—Girls Varsity
Flag Football —Girls
Football—Citywide Varsity
Lacrosse—Boys & Girls
Soccer—Boys & Girls Varsity
Softball—Girls Varsity
Tennis—Boys & Girls
Track & Field—Coed
Partnerships
AccessMatters
Center for Literacy
College Possible
Community College of Philadelphia
CORA
Deloitte
Eat.Right.Philly
Free Library of Philadelphia – Bustleton Branch
F.S. Investments
Heights Philadelphia
JEVS Human Services
JFCS
Just Leadership USA
Kleinlife
Lutheran Settlement House
Mayor's Office of Education
MuralArts Philadelphia
New World Association
Orleans Technical Institute
Office of Adult Education
Office of State Representative Kevin Boyle
Office of State Representative Martina White
Office of Congressman Brendan Boyle
PHAN (PA Health Access Network)
Philadelphia Academies Incorporated
Philadelphia Department of Streets
Planned Parenthood
Proclamation Community Church
7th Police District Advisory
Temple University
UESF (Utilities Emergency Support Fund)
The Wharton School
YMCA
Admission Criteria
For the International Baccalaureate Diploma Program
Grades: As, Bs, and one C
Attendance: 90%
Standardized Test: 50th Percentile in ELA and 50th Percentile in Math